Offshore Company
Introduction and Features

What's the offshore company?
Offshore company is available to be registered in BVI, Cayman Islands, Belize, Brunei, Hong Kong, Samoa, Seychelles. To develop the trade and investment industry, the local governments make duty-free or low taxes policy to encourage enterprise adopt flexible strategy on global expanding. The main purposes of setting up offshore company include:
1. Simple procedure, quick and low cost;
2. Tax saving and easy for Taxation strategy;
3. Company information of heightened confidentiality;
4. Either person or corporation is ok to be shareholder;
5. Bank account opening at areas without exchange control and other advantages.
Offshore company registration process

Company pre-investigation:
Provide the company name check, or you can choose ready-made company secretary provided, approximately one working day.


Preparing Files:
Providing directors, shareholders and shareholding ratio; individuals must provide proof of identity, the company must provide the business license.


Offshore company registration:
After the data ready, commissioned by the Secretary to submit information to overseas registration, about 7-10 working days.


Obtain original documents:
After completing the registration, the data came back from overseas courier, express delivery time is about 5 working days.
Offshore company functions
Offshore company in accordance with the mode of operation can be divided into two kinds of holding and trading patterns. Mainly has the following functions:
1.International trade operations;
2.Legitimate tax savings;
3.To facilitate foreign exchange and financial operations;
4.Investment Holdings / embassies certification;
5.Delay payment of tax effect (deferred taxation);
6.VIE structure and function, namely variable interest entity, known as protocol control, unlike general.
The company adopted the equity control, VIE is not passed But the way to the signing of the agreement shareholding way To actually control the company.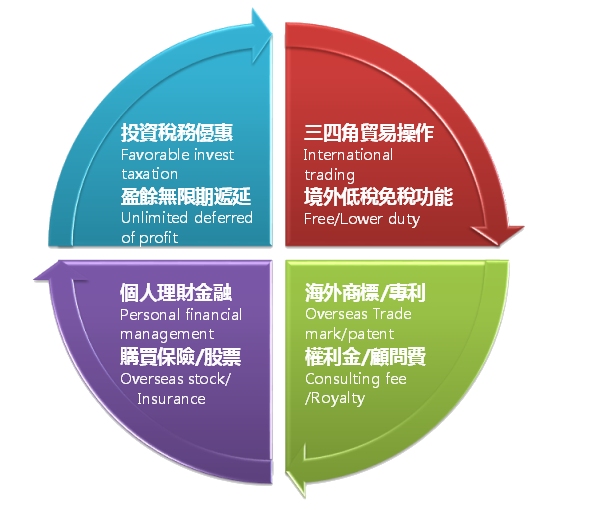 Consultant & Operation
Multiple operation of offshore companies, offshore companies each have different characteristics. It must understand the needs, and then select the appropriate foreign companies. Set up an offshore company is not a difficult thing, really should be noted that in matters of the company set up later, such as how to choose the certification of overseas bank accounts / documents related investments / practical problems and consulting / operation notes / latest policies and regulations changes and coping, .. etc, is the business really need to know. Meeting with professionals familiar with the cause foreign affairs, planning, registration, practical cases and precautions provided with the latest information, the expertise to provide customers with the most complete fast service.
The key point is around the background and purposes of the investment practices of customers, different products and services to generate new experience determines the value of the experience on the future.